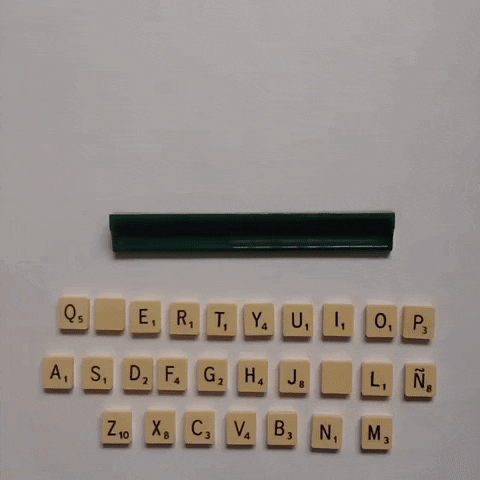 This isolation period has been an interesting time for all of us. One thing I have been participating in to pass the time is playing "Words with Friends" through Facebook with my friends. Words With Friends is one of the most popular mobile games of all time, with around 13 million users playing the word game each month. It's great fun and a cool way to stay connected with friends during a time of social isolation. However, I do have a confession. I know I'm terrible for doing this but I have to admit…
I'M A CHEAT
A LIE
Kieren, Tayla, if you're reading this, I'M SORRY.

One night I was really stuck to think of a word with the available letters I had left. So I typed into google "words with the letters . . . ."
And to my surprise there was an entire website dedicated to "words with friends cheats" "scrabble cheats". You could even include which letters you wanted the word to start or end with. It was incredible. I felt so wrong doing it but I  couldn't stop myself from using it for the remainder of the game.
This scenario did get me thinking of my childhood experience playing scrabble. The physical board game had such a more special feel to it. From the velvet bag which stored the letters, to the competitiveness of sitting at our family dinner table all together and focused on the same thing. Lastly, of course NO CHEATING.  So what issues occur when digitising a board game? How does it change the gaming experience? Does it make it better?
For this digital artefact project, I'd like to further explore these questions. Although, it is important to note that Words with Friends is not all associated with Scrabble and there have been various copyright lawsuits and issues between the two. Hasbro/Mattel, owners of scrabble have tried to make their own version but it has not been anywhere near as popular. However I still would like to compare the two as they are very much the same concept and I still would like to use them to unpack whether the issues outweigh the positives when digitising an analogue board game.
In "Digitising Boardgames: Issues and Tensions" (2015),  Rogerson, Gibbs and Smith, discuss the growing tension between the desire for digitised board games to be true to the "interaction metaphor of the original medium" and the desire to extend the game to explore the potential of the digital medium. I'd like to use their research and findings as well as some more sources as I investigate this topic deeper.
Nationally ranked tournament Scrabble player, Mark Abadi, explains why "Scrabble blows Words With Friends out of the water" in an article for Business Insider. On the other hand Brian Clark Howard explains "How Words With Friends Beat Scrabble At Its Own Game" in article for Fast Company, so there are definitely some mixed opinions surrounding this topic.
In addition to compiling research online, I would also like to play a game of Words with Friends (no cheating I promise) then get our old scrabble game out from the dust and compare the play experience between the two.
I will present all my findings of both research, as well a game play experience into a final video essay, which will then be posted onto my YouTube account!